October 11th, 2017, Istanbul – United Nations Population Fund Representative to Turkey Karl Kulessa delivered a speech at the International Day of the Girl Conference organized by Aydın Doğan Vakfı in cooperation with UNFPA Turkey, UN Women Turkey and UNICEF Turkey in Istanbul on October 11th, 2017.
In his speech, Kulessa said "The Power of 10. 10 is a magical number for a girl because as a girl reaches 10, she has become able to exercise her rights, stay healthy, complete her education and make decisions about her own life. And when she does, she— and everyone around her—wins. What the world will look like in 15 years will depend on our doing everything in our power to ignite the potential of a 10-year-old girl today."
Karl Kulessa highlights why the age of 10 is so important for girls. "Age 10 for a girl means exercising more independence and exploring new interests, however, it also means being a babysitter, maid, or even a commodity to be traded away. 10-year-olds girls do more household chores and more unpaid labor than boys. Every day nearly 50.000 girls under the age of 18 are married off or at risk of being married off. An adolescent girl dies from violence every 10 minutes. Educating girls is considered the "world's best investment," yet 62 million adolescent girls are not in school today.
Investment in health, especially sexual and reproductive health, education and empowerment of 10-year-old girls will greatly increase a girl's lifetime income. Healthy, educated and empowered girls are more likely to delay marriage and pregnancy until they are mature. They are more likely to find decent work, and their future children will be healthier and better educated.
I want you to meet Azize. Azize is a ten-year-old who lives in Alpu, province of Eskisehir in central Turkey, where most of the seasonal farm workers live in tents under very fragile living conditions. Her family is from Urfa. When I first met Azize, she was out of school and trying to support her family. When I asked her about her dreams she told me that she wants to continue her education and become a doctor.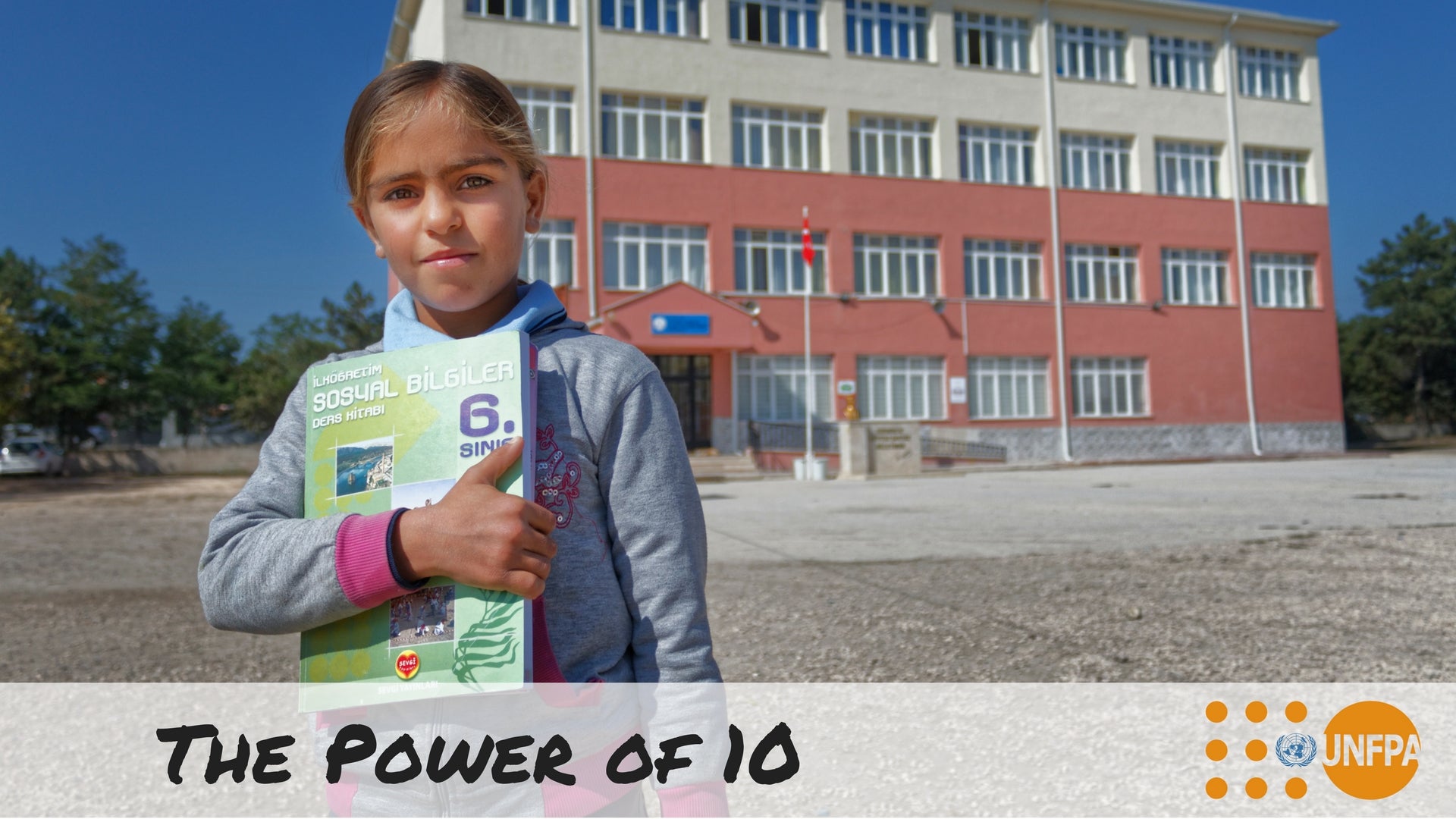 Today Azize is 10 years old. She is in 6th grade and attends school every day with her peers. Her ambition to study also had a huge effect on her family, especially on her father, Yasin. He decided to settle in Eskişehir so that Azize and her siblings could continue their education and one day fulfil their dreams. Azize's still young partnership with UNFPA showed us that if we change the life of a 10-year-old we can change the life of her family which in turn can change all of society.
When girls are empowered, they contribute enormously to the global economy, to the health, and well-being of their families, and to their communities and countries."
Watch what Azize has to say about her future ambitions:
United Nations Population Fund (UNFPA)
The United Nations Population Fund (UNFPA) was established in 1969 as the biggest aid source with international funding in the area of population operating around the world. UNFPA operates in more than 150 countries for creating policies and strategies that support sustainable development. Having started its activities on a project basis, the United Nations Population Fund (UNFPA) has been working on reproductive health, encouraging social-gender equality, and collecting, using and distributing data about development and humanitarian aid in Turkey since 1971. Within this framework, the first Country Program lasted from 1988 to 1992 and now the Sixth Country Program (2016-2020) is being executed.
The United Nations Population Fund (UNFPA) works to deliver a world where every pregnancy is wanted, every childbirth is safe and every young person's potential is fulfilled. To this end, UNFPA focuses especially 4 of the Sustainable Development Goals (SDGs); SDG 3: Good health and well-being, SDG 4: Quality Education, SDG 5: Gender Equality and finally, SDG 17: Partnerships for Goals
Follow United Nations Population Fund (UNFPA) on social media:
Facebook: UNFPA.Turkey  Twitter: UNFPATurkey  Instagram: unfpa_turkey  YouTube: UNFPATurkey