"Child Marriage Awareness Panel" For Male Refugees - 24 September 2017, Ankara
One out of every three women in the world is married before the age of 18. If essential and preventive studies are not carried out on child marriages, it is expected that by 2050 the number of women married at child age will reach 1.2 billion. "Child Marriage Awareness Panel", which is developed and organized by the United Nations Population Fund office (UNFPA) to draw attention and raise awareness on child marriage issue, which is frequently seen in refugee families and is a human rights violations against children. The first of the series was organized for the first time in Mardin with more than 1,000 refugee attendees, then the panel was repeated in Konya, İzmir, Ankara and Batman. Plus, UNFPA Turkey office is working to organize Child Marriage Awareness panels in Adana, Mersin, Kahramanmaraş, Şanlıurfa, Hatay, Diyarbakır, Gaziantep, Istanbul and Eskişehir tailored for both refugee women and men. 
Child Marriage Awareness Panel for refugee men in Ankara, whose content is developed by the United Nations Population Fund (UNFPA) and organized with UNFPA's implementing partners, Hacettepe University Women's Research and Implementation Center (HUKSAM), Community Volunteers Foundation (TOG) and the Association for Solidarity with Asylum Seekers and Migrants (SGDD-ASAM). The panel first was held in Mardin twice, and then in Konya and Izmir, then it was held in the Culture and Congress Center of Ankara Ulucanlar Semi-Open Prison on 24 September 2017 for the fifth time. In the panels, the experts made presentations on Physical, Psychological and Social Dimensions of Child Marriages, Legal Status and Obligations in Early Age Marriages in Turkey and Child Marriages from the Islamic Perspective. More than 250 refugee men were attended in the panel held in Ankara, which was financially supported by the European Union Civil Protection and Humanitarian Aid Operations (ECHO) and the U.S. State Department, Bureau of Population, Refugees and Migration.

Karl Kulessa, United Nations Population Fund (UNFPA) Representative for Turkey, said in his opening remarks that " Girls who become child brides often leave school early. This deprives them of economic opportunities. Early marriage takes from girls the right to make fundamental life choices. Education, health, social and livelihood skills are essential for girls to become fully empowered citizens. Child marriage is a global issue. One out of nine girls will be married before their 15th birthday. Most of these girls are poor, less-educated, and living in rural areas. An estimated 70 million girls will be married as children over the next five years; this means thousands of girls marrying every single day."
In the opening speeches of the panel, TOG General Director Jülide Erdoğan said, "It is necessary for us to assist these young boys and girls and enable them to reach their full potentials in order for them to grow up healthy." HÜKSAM Manager Prof Dr. Ü. Şevkat Bahar Özvarış said "From the beginning of 2000s up until today, with our partners such as UNFPA, we have been working to contribute to the women studies. In the same way, we have been also doing studies on refugee women and girls, organizing training programs and working to raise awareness as at these child marriage panels." the Association for Solidarity with Asylum Seekers and Migrants (SGDD-ASAM) General Coordinator Ibrahim Vurgun Kavlak said, "These types of initiatives are very dear to us thanks to which men can live in a better world. More importantly, panels like these positively affect the course of the country overall."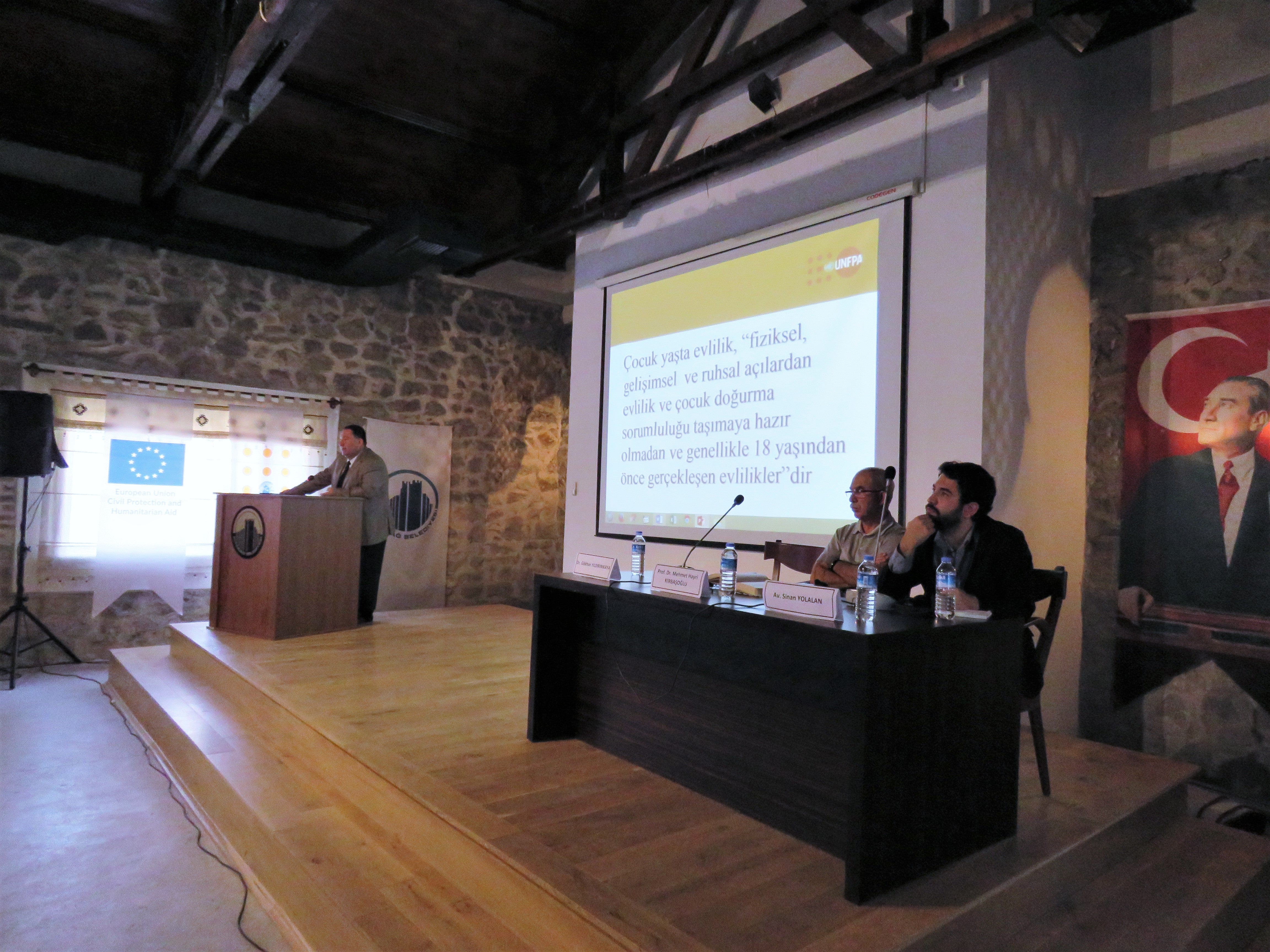 United Nations Population Fund (UNFPA) Reproductive Health Program Coordinator Dr. Gökhan Yıldırımkaya said "Child marriage generally occurs before the age of 18 without being physically, developmentally and spiritually ready for the concept of marriage itself and the heavy responsibilities of childbearing. In international codes, child marriage is considered as a human rights violation. For whatever reason, it is not right to marry children before they reach the age of 18 on the basis that it is too risky for mother-to-be and baby; risky health problems are highly likely for both of them." Dr. Yıldırımkaya added "Around the world, women are still losing their lives because of pregnancy-related complications in every 2 minutes, some of these deaths occur due to child marriage. On top of lost lives, we are witnessing the frequent occurrences of sexual violence in the cases of child marriages." Dr. Yıldırımkaya added.
Panel speaker Attn. Sinan Yolalan said in his presentation titled Legal Status and Obligations in Child Marriages in Turkey that "Child marriage is a multidimensional issue that can be considered as child abuse and/or human trafficking cases. According to the Turkish Criminal Code and the Constitution, refugees are subject to binding articles on child marriages. Refugees are at risk of being deported, when they commit this crime. Officially, these marriages are not recognized. Not only those who marry, but those who witness these marriages also have the obligation to report this crime; there are penal sanctions for those who do not comply with this rule. Likewise, this obligation of notice application applies to refugees and they have the responsibilities to notify."
Prof. Dr. Mehmet Hayri Kırbaşıoğlu, in his presentation titled Childhood Marriages from the Islamic Perspective said that "Child marriage is a problem we all need to deal with. We see that this type of marriage emerges as a result of repression. No one should make a decision under pressure which will surely affect the course of his/her whole life. No one should be married without his/her consent. When we look at it, the marriage of girls done by their fathers' pressure is not right according to our religion, which gives great importance to the concept of marriage."
Two refugees participated in the panel shared their experiences on the negative impacts of their own marriages done in their childhood years. One of the refugee men held the floor said, "I was married in my high school years and had to quit the school. We had difficulties economically, but only at 34, we were able to support ourselves financially. My wife remained as a primary school graduate. She was socially always alone. I started to understand what she went through only when I reached my adulthood years. Now, I do not want my 11-year-old daughter to have the same pain." The second participant shared his opinions that "In our culture, we marry troubled boys to girls who are generally milder and with that it is hoped that the boy will calm down as well. I think that we pay too much focus on this 'maturation' in the adolescence period, we focus too much on this 'maturation', we have too much expectation from our very young boys and girls. We give our children the impression that 'you were grown up' which is not true. We forget the fact that they are still children."
The United Nations Population Fund (UNFPA), with support of its various implementing partners and with the finance received for various international donors, continues to organize "Child Marriage Awareness Panel" series of nearly 30, whose content is specifically developed for men and women, in many different provinces of Turkey.
United Nations Population Fund (UNFPA)
The United Nations Population Fund (UNFPA) was established in 1969 and as the biggest aid source with international funding in the area of population operating around the world. UNFPA operates in more than 150 countries for creating policies and strategies that support sustainable development. Having started its activities on a project basis, the United Nations Population Fund (UNFPA) has been working on reproductive health, encouraging social gender equality, collecting, using and distributing data about development and humanitarian aid in Turkey since 1971. Within this framework, the first Country Program lasted from 1988 to 1992 and now the Sixth Country Program (2016-2020) is being executed.
The United Nations Population Fund (UNFPA) works to deliver a world where every pregnancy is wanted, every childbirth is safe and every young person's potential is fulfilled. To this end, UNFPA focuses especially 4 of the Sustainable Development Goals (SDGs); SDG 3: Good health and well-being, SDG 4: Quality Education, SDG 5: Gender Equality and finally, SDG 17: Partnerships for Goals
Follow United Nations Population Fund (UNFPA) on social media:
Facebook: UNFPA.Turkey  Twitter: UNFPATurkey  Instagram: unfpa_turkey  YouTube: UNFPATurkey