An estimated 15% of forcibly displaced people in the world live with disabilities. Many refugees with disabilities struggle to access essential services or do not know their rights and the services that are available to them. With the financial support of the European Union and partnership with the Association for Solidarity with Asylum Seekers and Migrants (SGDD-ASAM), UNFPA Turkiye works to ensure that refugees with disabilities and their support persons have equal rights and opportunities in accessing services such as health including sexual and reproductive health, education and employment while providing them with specialized protection services in Türkiye.
Ankara, Turkiye - The connection between Rana and her daughter Leyen is so strong that when they hug each other, a smile appears on the face of everyone in the room. It is rather hard not to participate in the games that are the products of 5-year-old Leyen's boundless imagination. Rana is a mother who would do anything for her daughter, who has down syndrome. That is what catches one's eye about her; her confidence and upright stance. Her eyes were shining for her daughter, despite the difficulties she has faced.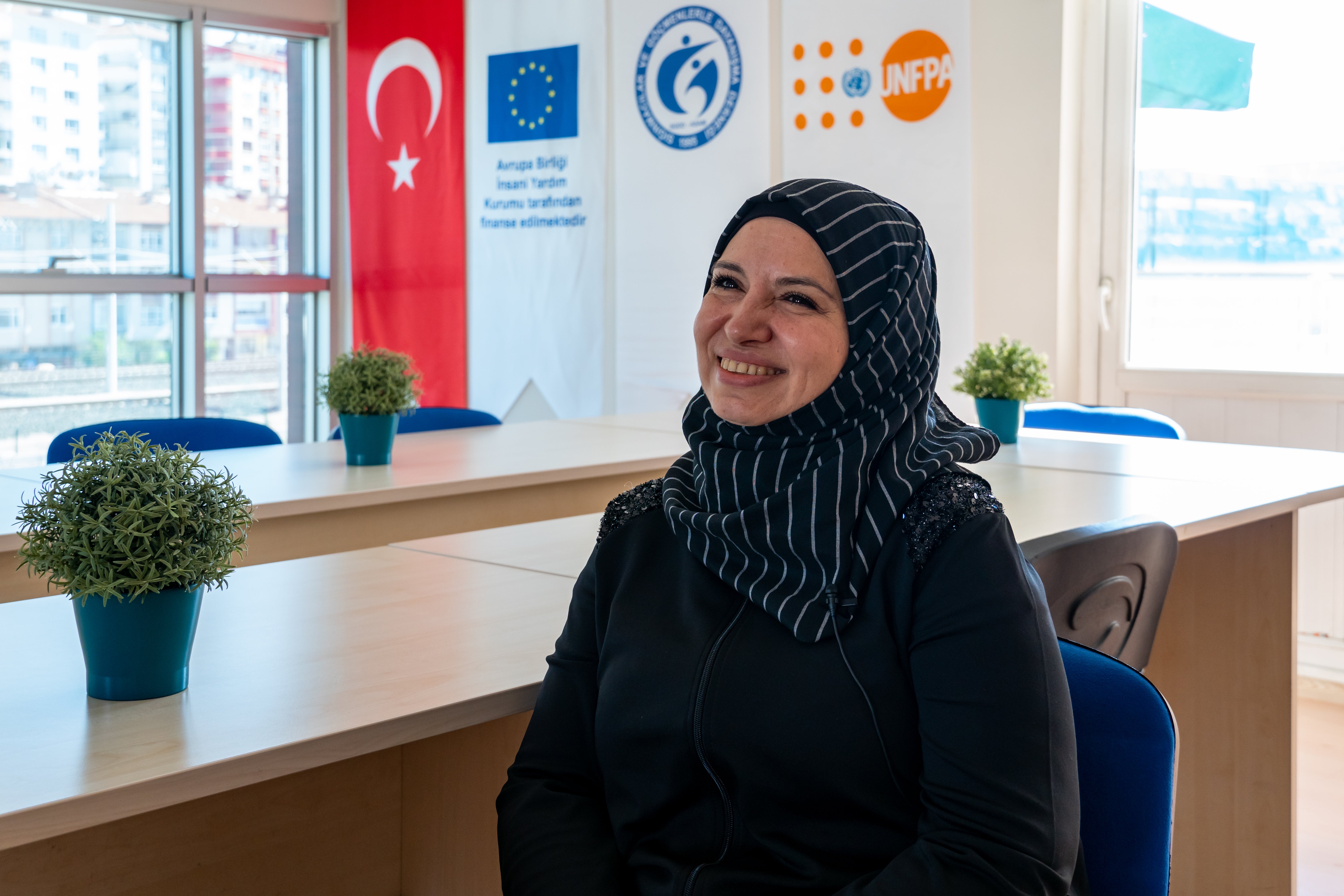 We listened to Rana's story at our service unit in Ankara, which provides specialized protection services with financial support from EU humanitarian aid and works in partnership with the Association for Solidarity with Asylum Seekers and Migrants (SGDD-ASAM). She has been living in Türkiye for six years. She tells us about the difficulties of being forcibly displaced because of the war in Syria. She says that their house was bombed and they lost everything they had where they first sought refuge. Although her daughter Leyen's down syndrome, thyroid illness and celiac conditions, and the health problems of her husband added to the challenges Rana faced, "I fought with every kind of difficulty for my daughter's safety and eventually we came to Türkiye", says Rana.
She explains the difficulties she had to face in Türkiyewith the following words: "We were safer when we came to Türkiye, but this time we struggled with housing, the cost of living and the language barrier along with Leyen's need for special education, of course." At this point, Rana's path crossed with our service unit in Ankara. She attends group activities and receives psychological support. While she gains resilience and regains her self-confidence, her daughter Leyen is provided with support to get an appointment, a special transfer vehicle and translation support to facilitate her treatment procedures at the hospital. In addition, necessary guidance and referral are given for Leyen to receive the special education she needs.
Rana and Leyen also participate in other group activities organized by the service unit. Rana says that as she makes friends, she gets a chance to see that she is not alone and feels better. Rana is also an active member of the Disability Committee established in scope of the project. She works to support people who request counseling. "We talk about the problems that we experience at the committee meetings and discuss how we can solve them. This process increases both our sense of unity and our solidarity," she summarizes this experience.
Rana says, "Before I came to this center, I had great problems in accessing services for persons with disabilities but now they even help me when taking an appointment at the hospital. I feel much safer and stronger now, as I feel their support with me at all times. " Their lives are still full of difficulties, but Rana is happy and hopeful because they are away from violence, they can plan for their future and most importantly, her daughter can get the support she needs.
Within the scope of the "Increasing Access of the Refugees with Disabilities and Their Support Person to Protection and Social Services" project carried out in cooperation with UNFPA Turkiye with the support of the European Union's humanitarian funds and in partnership with the Association for Solidarity with Asylum Seekers and Migrants (SGDD-ASAM), refugees with disabilities and their support persons are supported to receive specialized protection services and ensure their equal access to rights and services. Through the service units in Ankara and İzmir, protection information counseling, psychosocial support, translation and referral services are provided in order to increase the access of refugees with disabilities to social protection and other services they need.